Women and young workers under the age of 24 will be the "first to be sacked" if the Australian economy falls into recession, an expert has warned.
Aussies who quit their full-time jobs amid the Great Resignation in exchange for more flexible working arrangements could also face uncertain job prospects.
Dr Greg Jericho, the Centre for Future Work's Policy Director, said the growth of casualised work could have major ramifications on job security.
Although figures around how many Australians have moved from full-time roles to casual or freelance roles are lacking, Dr Jericho says the increase in people working multiple jobs points to a growth of insecure, or non-permanent work.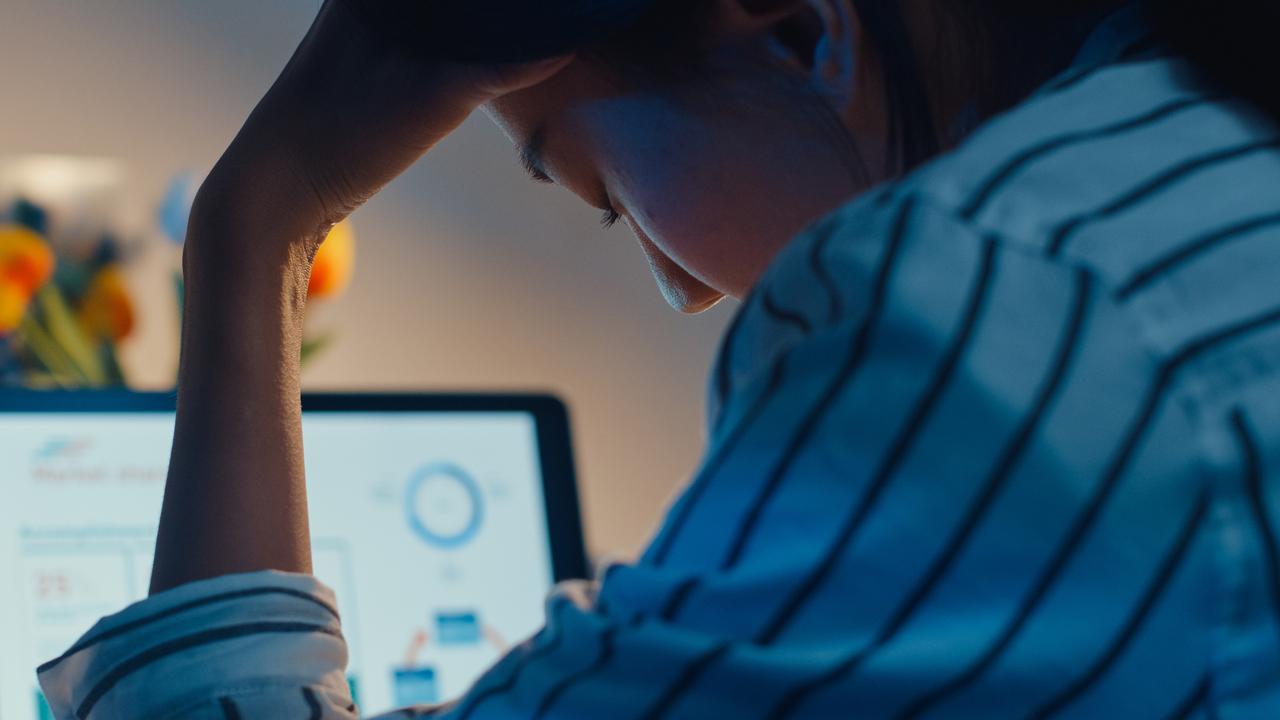 Employees in non-permanent roles like casual workers and freelancers are most at risk of losing work during a potential recession. Picture: iStock.
Data released by the Australian Bureau of Statistics (ABS) in September reported that 6.5 per cent of employed people, or a record 900,000 Australians have more than one job, with Dr Jericho putting that down to the rising cost of living, and extra demand for casual, insecure jobs which would normally be filled by backpackers and foreign students.
"Whenever there's any economic downturn, whether it be just the slowing of the economy, or an extra recession, the first workers to go are always the most insecure," says Dr Jericho.
"Generally young workers under 24 are always the first to get sacked – purely because they're the last to be hired, and they have the least skills and training, and connection to the job.
"Women are also more likely to be affected as they are more likely to be working part time, or working casual jobs."
This comes as Treasurer Jim Chalmers warned that Australia would not be immune to global pressures which indicate a growing threat of recession.
"The global economy is treading an increasingly perilous path and downside risks loom large – this was a clear message from meetings with my counterparts in Washington DC," he said on Monday.
"The budget will confirm the stark deterioration in the outlook for global growth and in several major economies, with some at risk of falling into recession."
Freelancer budgets on the chopping block
Career coach Jane Jackson says she's seen a rise in freelancer and casual work and gradual shift away from permanent full-time work in lieu of the pandemic. She said that exacerbated by the Great Resignation, remote working and flexible working arrangements became the norm, the idea of "working for yourself" gathered steam.
At the same time, businesses were also more open to outsourcing skills and roles to freelances, leading to an abundance of work and a "boom" in the gig economy.
"People found they were able to juggle their families with working-from-home, and that meant they could work at night or during the way – as long as they got the job done," says Ms Jackson.
Some of the most popular roles which saw this shift included digital marketing roles, human resources and consultant-type roles, she said.
The Great Resignation and the increased remote work measures have caused more people to consider freelancing and working for themselves. Picture: iStock.
Although Ms Jackson has yet to observe companies and organisations slashing their freelancer and consultancy budgets, she admits that a worsening international outlook would affect our employment market. The trend is already impacting US and UK employees, and it means freelancers will have to "negotiate a lot harder" for work, she says.
"It's easier to let go of a freelancer over a permanent employee," said Ms Jackson.
"Permanent employees must pay superannuation, paid leave and sick leave and companies don't need to worry about that for freelancers.
"Without a permanent full-time contract, or any permanent contract, you don't need to performance manage anybody out. You can just say you're finishing a project without renewing their work.
"That's why it's important that freelancers that their skills, knowledge and marketing capabilities are really up to scratch so they can protect their income."
Silver lining amid recession fears
Set to deliver Labor's first federal budget on October 25, Dr Chalmers said his budget would factor in the economic downturn of Australia's key trading partners like the US, UK, China, India and Japan.
While he flagged fiscal fears for our domestic economy, he hoped that Australia's "low unemployment" would help Australia avoid a recession.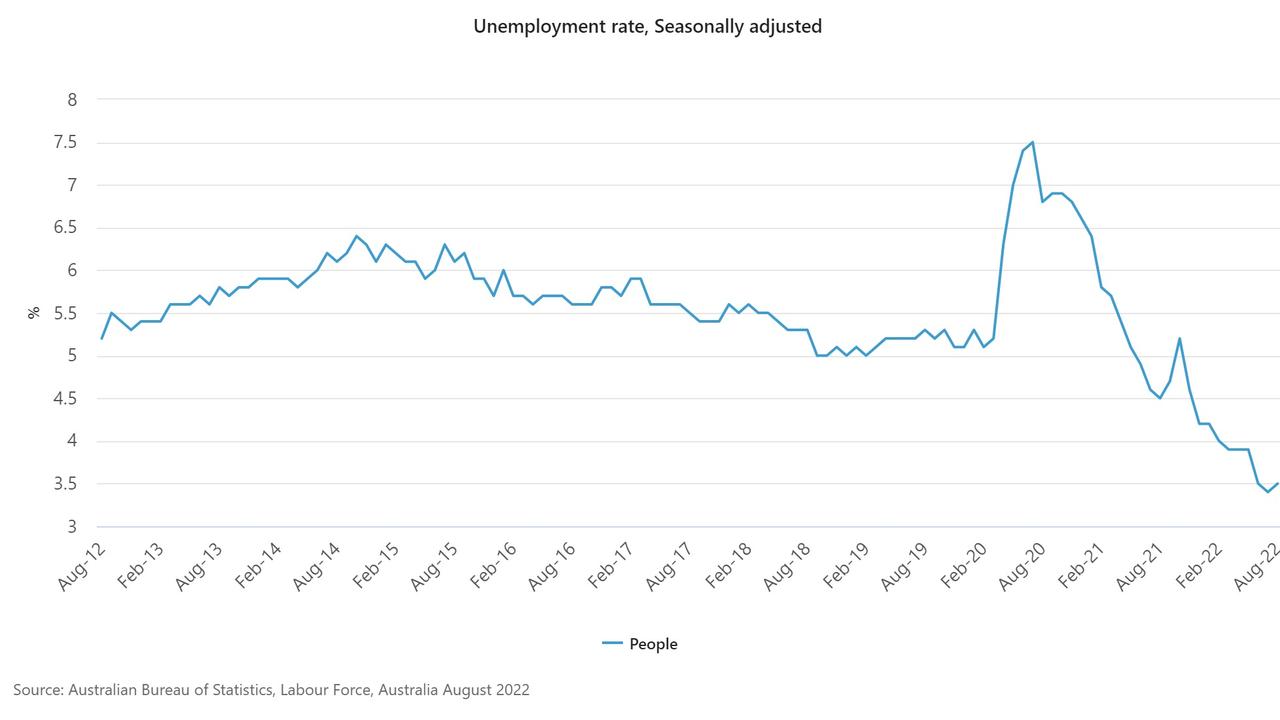 Australia's unemployment rates are at historic lows, despite slightly increasing from July to August 2022. Picture: ABS.
Most recent unemployment figures from August saw our unemployment figures slightly increase from 3.4 per cent to 3.5 per cent month-on-month, with numbers close to historic since 1974.
"We have low unemployment, we've got relatively solid growth, relatively solid demand," he told reporters on Monday after returning from Washington DC.
"We've got good prices … for our commodities around the world with a positive impact of that on the budget."
Should Australia's economy fall into a recession, Dr Jericho said he hoped that the government would implement measures to keep people in the workforce.
"There needs to be considerations about keeping people connected to actual employments, and there are certainly going to be concerns about the level of job seeker, or unemployment benefits," he said.
"My big concern is that governments are going to think: 'We can't do too much to help vulnerable people, or the economy as a whole, because we don't want to help the economy as a whole.'"