It was an honour to be named one of the top 20 female career coaches to follow in 2020 by TalentLMS!
"Business isn't just a man's world anymore. Today, when we're talking about entrepreneurship, career coaches, and success, we're talking about people – not pronouns.
For this post, we picked 20 women whose career-coaching work, over the years, has stood out. They've all worked with big brands, have a dream of helping professionals succeed, and have set the bar high for all business coaches. It doesn't matter where you see your career in the next five years or so. The coaches below deserve a spot in your Twitter feed, bookmarks bar, and inbox."
Here's what they say:
Jane Jackson
Website: janejacksoncoach.com
Jane Jackson is the author of an Amazon bestseller ("Navigating Career Crossroads"), public speaker, and host of the 'Your Career' podcast.
Jane's resume includes an impressive, worldwide portfolio — she has worked with professionals from all sorts of industries in London, Singapore, Sydney, Hong Kong, and San Francisco. Her focus area? Helping people find happiness in what they do and identify key aspects that will allow them to create a career they truly love.
Whether it's a group presentation, a corporate training session, or even a one-on-one session, Jane gives her trainees that spark of inspiration.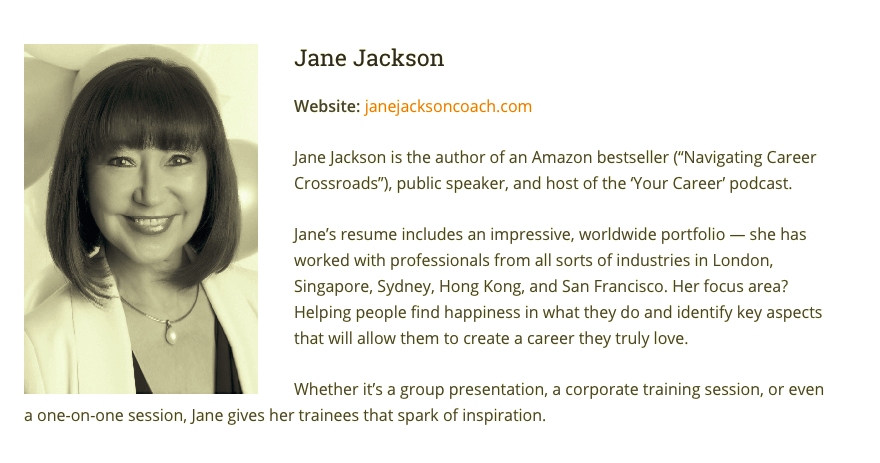 If you'd like more information and career management support, visit The Careers Academy Online
Jane has been featured in a number of media publications, Sky News Business and Radio 2UE Talking Lifestyle Second Career.